Welcome to PVS Barnsley Ltd.

Established in 1960 by Brian Laverack, PVS Ltd specialise in the dismantling of redundant buses and the exporting of engine units and axles. Basically the business would have been regarded as a 'scrap yard'. Environmental awareness was growing at the time and new regulations soon entered the statute books of many Local Authorities. PVS quickly recognised that environmental improvements would help to change the image of the 'scrap' industry and tens of thousands of pounds were invested in environmentally friendly improvements. Projects included the concreting of huge safe areas and safe disposal of waste products such as tyres, batteries and oil. Consequently the new regulations embraced by PVS were to cause many of the traditional dismantling firms to disappear, as the financial burden of meeting the new requirements became too much.
Click on image to enlarge
PVS have emerged as one of the largest and most professional fully licensed vehicle dismantlers in the country. A further dimension to the business is the vehicle servicing, MOT preparation and major unit replacement carried out in our fully equipped and purpose built workshops. The supply of quality second hand major units, engines, gearboxes and axles is another service available.
After more than 40 years PVS is still very much a family business with Brian's son Geoff and Janice his daughter fully involved on a day to day basis and Janice's husband Phillip Hollinshead taking responsibility for the organisation of the workshop. In addition to a friendly and helpful response you can guarantee that between them the family members have a wealth of knowledge and expertise.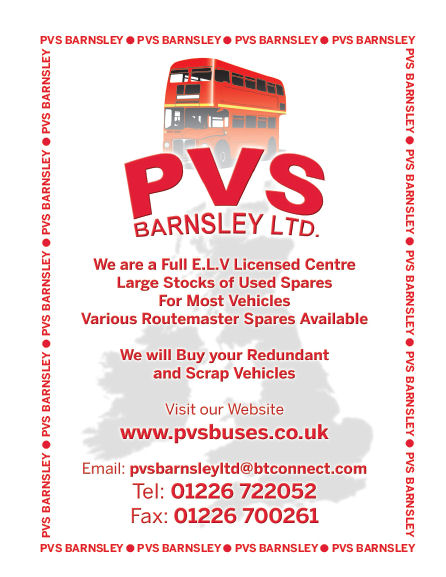 Please Note All Bus/Coach Enthusiasts

The Management Team have reviewed and updated The Health and Safety Policy and working Yard Risk Assesment.
As from 1st December 2011 PVS (Barnsley) Limited cannot facilitate visitors other than bonafide clients into the yard.
All Bonafide visitors should sign in at the reception and wear appropriate Personal Protective Equipment/clothing inline with what activity they intend to carry out when on site( looking for or stripping parts off).

© COPYRIGHT 2011 ALL RIGHTS RESERVED PVSBUSES.COM Web design by customcomputersgb.com